THE WEST VALLEY ACTION NETWORK
---
About WVAN | Background Materials | Campaigns and Correspondence
Join the Network | West Valley Watch
---
October 2020. Diane D'Arrigo, Nuclear Information and Resource Service, describes what's at stake at the West Valley nuclear site in 2020-2021 and years to come.

March 2015. Letter from clean energy groups to DOE and NYSERDA on Probabilistic Performance Assessment that is now part of the plan for West Valley, with recommendations to ensure promised transparency provisions are met. The PPA will be used to prepare a Supplemental Environmental Impact Statement (SEIS) to be carried out by 2020.
February 2015. Why should kids care about the West Valley Nuclear Waste Site? Powerpoint presentation by NIRS' Diane D'Arrigo to Park School students, Buffalo, NY February 2015
August 26, 2013. Decision-makers at West Valley Nuclear Site Ignoring Climate Change. Groups demand action to prevent nuclear waste eroding into water supply.
April 16, 2010: West Valley Action Network groups outraged with dangerously inadequate, incomplete cleanup decision by DOE: Group Press Release re DOE Record of Decision on West Valley Nuclear Power, Weapons and Reprocessing Waste Site. (DOE decision is at www.westvalleyeis.com)
August 31, 2009: "Cleanup Crew" Calls for State to Protect Lake Erie and Support Full Cleanup of West Valley Site. Press Advisory.
June 2009: Key Points on West Valley Nuclear Site Cleanup Plan. A Summary Critique of the Draft Environmental Impact Statement.

March 30, 2009: Groups throughout NY testified at the 4 public DEIS hearings on West Valley cleanup calling for Full Cleanup of the nuclear and hazardous waste site upstream of Lakes Erie and Ontario the week of March 30- April 2, 2009. NIRS Press Release.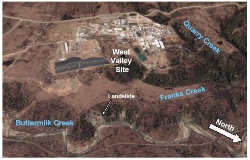 December 2, 2008: The Real Costs of Cleaning Up Nuclear Waste: A Full Cost Accounting of Cleanup Options for the West Valley Nuclear Waste;

a report conducted for the Center for Health, Environment & Justice, Nuclear Information & Resource Service, Citizens' Environmental Coalition and the Coalition on west Valley Nuclear Wastes by Synapse Energy Economics.
Appendix A: Erosion & Control of Erosion at the West Valley Site
Appendix B: Radioactive Exposure from the West Valley Site
Appendix C: Potential Uncontrolled Release of Radioactive Waste